3.3.7.
SAP Settings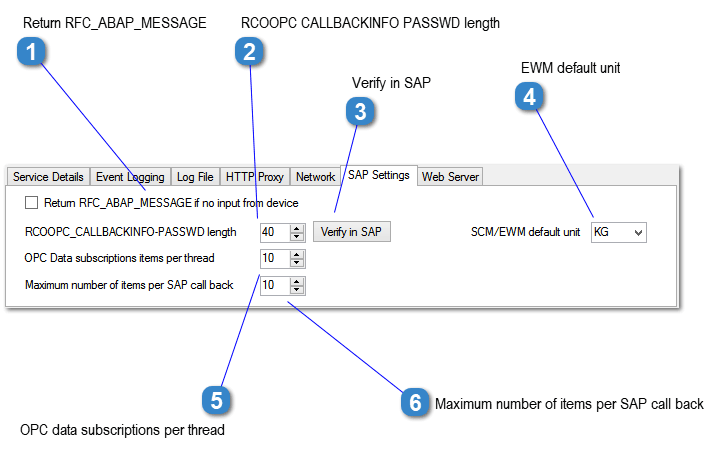 The password field is increased from 8 characters to 40 characters in releases ECC6.0 onwards. As this is not supported by SAP OPC connector, in some systems the application of the following OSS note resets the field length to 8 characters.
ERP-Scale supports the new 40 character passwords and the OSS note is not required.
Select the length of the field in your system. Click the 'Verify in SAP' button to automatically set the length based on the configuration of your SAP system.
See OSS note: 1166053 – DA and AE Subscriptions do not work
When using the weigh button in /SCWM/PACK the RFC
/SCWM/HU_WEIGHT_FROM_SCALE is called. If the data returned from the RFC includes the weight in a different unit of measure from the unit of measure of the HU, then error message
/SCWM/HUFUNCTIONS037 is raised. However, the
structure passed to the RFC does not include the unit of measure of the handling unit.
If a unit of measure is selected here, all weights returned to SCWM from ERP-Scale will be converted to this unit of measure.